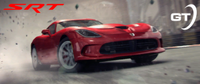 The SRT Viper GTS is a muscle car built and produced by SRT.
Formerly, the SRT Viper GTS was supposed to be named "Dodge Viper GTS". Instead, it was named "SRT Viper GTS" because of the split that formed Dodge into 3 separate branches of Chrysler, SRT being one of those three.
Ad blocker interference detected!
Wikia is a free-to-use site that makes money from advertising. We have a modified experience for viewers using ad blockers

Wikia is not accessible if you've made further modifications. Remove the custom ad blocker rule(s) and the page will load as expected.