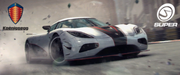 The Koenigsegg Agera R is a car built and produced by Koenigsegg. It was the fastest Agera ever to be made but the Koenigsegg One:1 was introduced later in 2014 which was one year later when the game was made.
The Agera R is the fastest car to be made and is also the fastest car ever in Grid 2. It can be unlocked after completing a Vehicle Challenge in Career Mode and it is unlocked when players reach Level 28 in Online Mode.
For the Online Mode, it is the last car ever to be unlocked.
Ad blocker interference detected!
Wikia is a free-to-use site that makes money from advertising. We have a modified experience for viewers using ad blockers

Wikia is not accessible if you've made further modifications. Remove the custom ad blocker rule(s) and the page will load as expected.